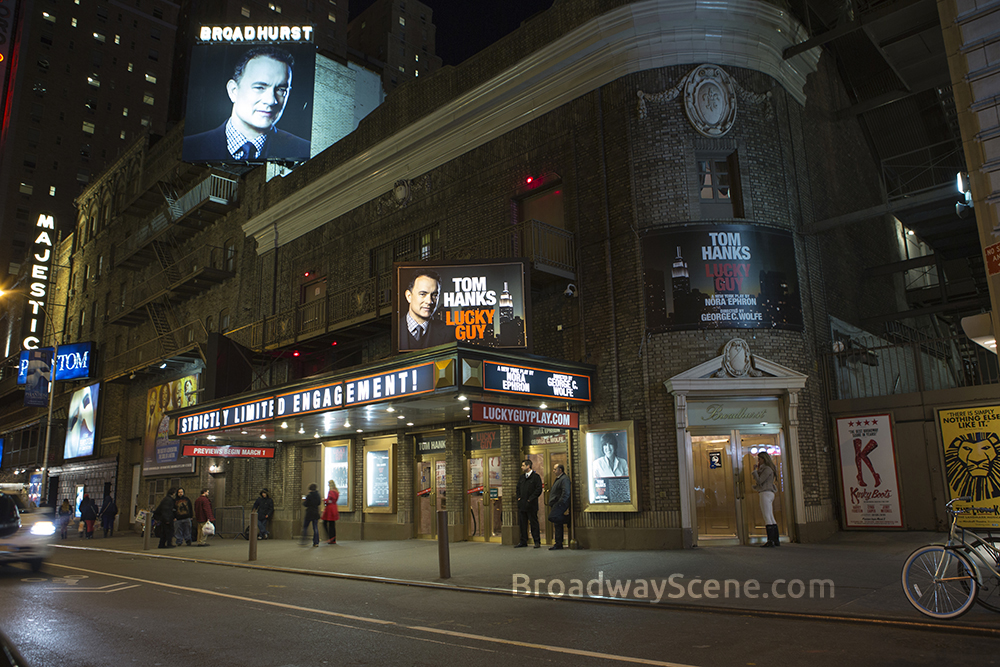 The Broadhurst Theatre is a large Broadway playhouse that was constructed by the manager and popular playwright, George H. Broadhurst , with the Shubert brothers. Broadhurst came to America in 1886 and managed theatres in Milwaukee, Baltimore, and San Francisco. He presented numerous plays in his namesake theatre up until 1924, and he maintained ownership of the theatre with the Shuberts up until his death in 1952. The Broadhurst has held its original name for all these years, which is uncommon for a theater of its time.
Broadhurst on Broadway
On September 27, 1917, the Broadhurst opened with George Bernard Shaw's Misalliance, which was New York's first performance of the comedy that was written in 1910. Later that year, Eva Le Gallienne began her long stint at the theatre with a revival of Lord and Lady Algy. In 1918, George Broadhurst's first play, He Didn't Want To Do It, was presented in his namesake theatre. On September 16, 1926, one of the Broadhurst's biggest hits opened. Jed Harris staged his electrifying production of Broadway featuring Lee Tracy.
Other notable productions of the 1920s and 1930s include George S. Kaufman and Marc Connelly's profitable comedy Beggar On Horseback (1924), the popular The Green Hat (1925) with Leslie Howard and Katharine Cornell, the musical Hold Everything (1928) starring Bert Lahr, and Victoria Regina (1935) starring Helen Hayes. In 1933, the Group Theatre opened their season with Men in White. The show was directed by Lee Strasberg, and featured Luther Adler, Sanford Meisner, Morris Carnovsky, Elia Kazan, and Clifford Odets. The Petrified Forest opened in 1935 with Humphrey Bogart and Leslie Howard, and Bogart's role in the following movie version propelled his movie career.
Two musicals concluded the decade: Mike Todd's swing version of The Hot Mikado, starring the famous Bill "Bojangles" Robinson, and the successful revue Streets of Paris. Popular productions of the 1940s and 1950s include Anita Loos's Happy Birthday (1946) starring Helen Hayes (in which she won the first Tony Award for Outstanding Actress), The World of Suzie Wong (1958) with France Nuyen and William Shatner, Auntie Mame (1956) with Rosalind Russell, and Fiorello! (1959), which won a Pulitzer Prize.
Numerous luminaries performed at the Broadhurst in the 1950s and 1960s, including Elaine Stritch in Noel Coward's Sail Away in 1961, and Woody Allen in his Play It Again in 1969. Other well-known shows were George Furth's Twigs (1971) featuring Sada Thompson, A Matter of Gravity (1976) with Katharine Hepburn, and Peter Shaffer's Amadeus (1980) with Ian McKellan, Tim Curry and Jane Seymour.
The Broadhurst has been home to many Tony Award winners, such as Cabaret in 1966, The History Boys in 2006, and several revivals, including Les Miserables in 2006, Cat on a Hot Tin Roof in 2008, and A Streetcar Named Desire in 2012.
Beautiful Broadhurst
Herbert J. Krapp designed the Broadhurst Theatre, and it is an emulating image of the adjacent Plymouth Theatre (presently the Schoenfeld Theatre). While the two venues are almost indistinguishable on the exterior, the Broadhurst's interior utilizes Doric columns, and minimal Greek-style decorations. It features a single balcony, and a wide auditorium that provides excellent sightlines. Its exterior is decorated with brickwork, enriched by bits of stone and terra-cotta (clay-based ceramic) adornment, and an oval symbol over the corner entrance.
More than Ninety Years of Success
The Broadhurst Theatre has rarely been dark and is one of the Shubert Organization's most steadily booked theatres on Broadway today. With 1,156 seats, the venue has been labeled as a New York City landmark. For more than ninety years, the theatre has successfully housed both Broadway plays and musicals.
Google Street View