The Gerald Schoenfeld Theatre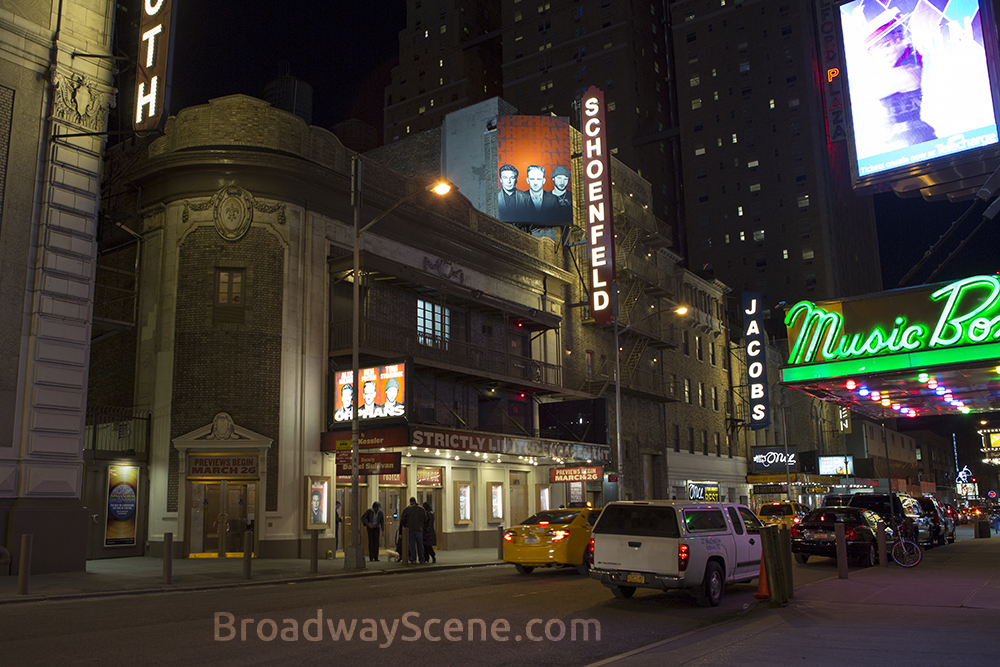 In 1917, the Shuberts constructed the Gerald Schoenfeld Theatre (originally known as the Plymouth) along with the adjoining Broadhurst. The Broadway theatre was originally leased to Anthony M. Hopkins who attained much success in booking it. He envisioned the theatre being used to house legitimate plays starring famed actors. In 2005, it was rechristened the Gerald Schoenfeld after the Shubert Organization's deceased chairman.
Full of Fame
In 1917, the Plymouth opened with A Successful Calamity. In 1918, Tolstoy's Redemption featuring John Barrymore in one of his most distinguished roles was staged in the space. In 1919, John Barrymore and Lionel Barrymore starred in Sem Benelli's Italian play The Jest. Little Old New York, a popular comedy by Rida Johnson Young, got the 1920s off to a promising start. In 1924, Hopkins presented Laurence Stallings and Maxwell Anderson's What Price Glory?, notable for its brazenly realistic portrayal of soldiers at war.
Other significant productions of the 1920s were Anthony Hopkins and George Manker Watters's Burlesque; Marjorie Rambeau, Frank Conroy, and Lee Baker in Daddy's Gone A-Hunting; and Harry Beresford and Minnie Dupree in the endearing comedy The Old Soak. Theatre critic Burns Mantle selected it as one of the season's ten best plays. Numerous successful productions and Pulitzer Prize-winners were shown at the theatre in the 1930s, 1940s, and 1950s.
In 1937, Gertrude Lawrence offered a memorable performance in Rachel Crother's Susan and God. Tallulah Bankhead starred in Thornton Wilder's The Skin of Our Teeth, which won the 1942 Pulitzer Prize. Noel Coward's Private Lives opened at the venue in 1948 with a returning Tallulah Bankhead. The Happy Time played in 1950 featuring Eva Gabor, while the musical Three for Tonight starring Harry Belafonte was produced in 1955. In the 1960s, a series of Neil Simon plays were hosted by the Plymouth: Art Carney and Walter Matthau were a mega-hit in The Odd Couple (1965), Anthony Perkins lit up the stage in The Star-Spangled Girl (1966), George C. Scott and Maureen Stapleton tore up in Plaza Suite (1968), and Maureen Stapleton was near perfect in The Gingerbread Man (1970).
In the 1970s and 1980s, several British imports opened, including Anthony Hopkins in Peter Shaffer's Equus in 1974 and Kate Nelligan and Edward Herrmann in David Hare's Plenty in 1983. Subsequently a year after Plenty, Glenn Close and Jeremy Irons starred in Tom Stoppard's The Real Thing. Another noteworthy production of the time was Joan Allen in Wendy Wasserstein's Pulitzer Prize-winning play The Heidi Chronicles in 1989.
More shows that have graced this Broadway stage include Vanessa Redgrave, Brian Dennehy, Philip Seymour Hoffman, and Robert Sean Leonard in a highly-praised revival of Eugene O' Neill's A Long Day's Journey Into Night (2003); Hugh Jackman and Daniel Craig in A Steady Rain; Christopher Walken in Martin McDonagh's A Behanding in Spokane (2010); and Patrick Stewart in A Life in the Theatre (2010).
Simple Ornamentation
Herbert Krapp's first independent project was to design the Gerald Schoenfeld Theatre. It was colored in shades of blue, brown, and gold. The theatre had a seating capacity of 1,000 and featured only one balcony. Since then the seating capacity has been increased to 1,080. The interior design themes, including the subtle detailing, faintly imitate the motifs of the slightly more decorative Booth and Shubert theatres.
The Vision of Anthony Hopkins
In 1987, the Gerald Schoenfeld Theatre was selected as a New York City landmark. To this day, the theatre is owned by the Shubert Organization and is one of Broadway's most heavily booked houses for moderate-sized musicals and dramas. Many celebrities have enthralled audiences here, including Katie Holmes, Chita Rivera, and Raul Esparza—this would have made Anthony Hopkins happy to know that his original vision is still being realized.
Google Street View