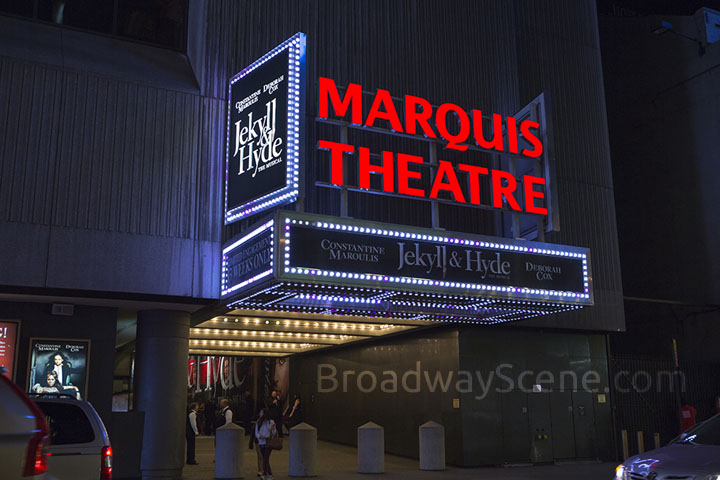 The Marquis Theatre is one of the newest constructed Broadway theatres and is located on the third floor of the Marriot Marquis Hotel, right in the heart of Times Square. Architect John C. Portman wanted the new theatre to be able to handle any type of performance and all kinds of light and sound equipment.
Notable Productions
On July 9, 1986, the Marquis opened with concerts by Shirley Bassey. On August 10, 1986, the sensational British musical Me and My Girl made its Broadway. It was nominated for 13 Tonys and won three. From November 13, 2009 to January 13, 2010, the stage adaptation of White Christmas played at the theatre. On March 25, 2010, the Twyla Tharp dance musical Come Fly Away, based on Frank Sinatra's music, opened and ran until September 5, 2010.
On April 17, 2011, Jack Murphy, Gregory Boyd, and Frank Wildhorn's Wonderland: Alice's New Musical Adventure premiered. The story is a modern version of Alice's Adventures in Wonderland and Lewis Carroll's Through the Looking-Glass. It takes place in New York City and revolves around writer Alice Stetson and her ten-year-old daughter, Chloe. Although noteworthy and inventive, the production ended up closing on May 15, 2011. On September 2, 2011, the Kennedy Center's production of Follies opened starring Bernadette Peters, Elaine Paige, Jan Maxwell, Ron Raines, and Danny Burstein. On March 12, 2012, Evita was revived for the first time on Broadway, starring Ricky Martin and Elena Roger.
The Marquis has displayed several other successful musicals since its opening, including Gypsy, Man of La Mancha, Damn Yankees, Victor/Victoria, Peter Pan, Annie Get Your Gun, and Thoroughly Modern Millie.

Simple Yet High-Tech
The Marquis Theatre was designed by architect John C. Portman Jr. to provide the most comfort for patrons and actors while maintaining an intimate ambience. Because five theatres were destroyed in order to construct the Marriot Marquis Hotel, New York City officials allowed the new building to be constructed only if it included a theatre within. The Marquis presents a spacious backstage, modern acoustics, comfortable seating (no seat is more than eighty feet from the stage), three separate wide aisles and plenty of parking. The theatre's high ceilings hide lighting and sound equipment, so patrons do not observe any unattractive pipes. There is a ramp for wheelchair patrons and a designated seating section for the disabled. The hotel's sheltered entryway is perfect for arriving by car or cab, especially in unpleasant weather.
Two beautiful spiral staircases lead up to the mezzanine. The theatre's lobby has a stunning marble bar. Above the entryway, the wall has been decorated with window cards of all the productions that have been staged there. As patrons enter the auditorium, the stage is immediately in front of them where they can get an up-close view of the alluring and rich main curtain. The house's interior is simple, with a color scheme of rose and various burgundy shades. There are seventy-five dressing rooms and three greenrooms.
A Theatre of Choice
An advantage of the Marquis Theatre being located in the Marriot Marquis Hotel is that patrons can dine at one of the restaurants within the hotel before or after the show. Inside the theatre, patrons enjoy an elaborate and sophisticated auditorium with the coziest seats on Broadway. From almost every seat, there are top-notch sightlines. The contemporary and technologically advanced Marquis has become a preferred venue on Broadway for musical productions. With a seating capacity of 1,611, the Marquis, which is one of the Nederlander's nine Broadway theatres, is a much-coveted space.