The American Airlines Theatre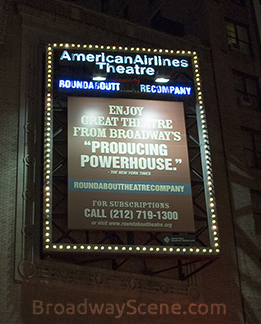 In 1918, the American Airlines Theatre opened as the Selwyn Theatre. Major musical and dramatic shows were originally housed here, but it eventually became a cinema before becoming mainly vacant. Today, it serves as the home of the Roundabout Theatre Company and remains unofficially recognized by its former name.
Transition from the Selwyn to American Airlines
The American Airlines was built by the Selwyn brothers, Edgar and Archie, in 1918, and was originally named after them. Edgar was famous in the theatre and film industry in the first half of the 20th century. He was a co-founder of Goldwyn Pictures (1916). From 1899 to 1942, he was well-known on Broadway as an actor, director, playwright, and producer. He founded The Selwyns, a theatrical production company, with his brother, and they produced shows on Broadway from 1919 to 1932. The Selwyn was one of the three theatres on 42nd Street they constructed and operated, along with the Apollo Theatre and Times Square Theatre.
The American Airlines Theatre was originally used to house major musical and dramatic shows. It was home to Cole Porter's Wake Up and Dream, and in 1930, it saw the premiere of Three's A Crowd starring Clifton Webb. Although it was eventually converted into cinema, it still hosted legitimate theatre productions numerous times over the next sixty years, but eventually it fell into disarray and remained for the most part unused. In the early 1990s, it was used as a temporary home for the Times Square Visitors Center and for a limited production of Eugene O'Neill's The Hairy Ape.
In 1990, the City and State of New York took over the Selwyn. In 1992, it fell under the protection of the New 42nd Street, an organization that was created in 1990 to manage the revitalization of seven neglected theatres. The Roundabout Theatre began refurbishing the space in 1997. It was renovated back to its original magnificence and reopened on June 30, 2000, as the American Airlines in honor of its major sponsor. Today, it houses the Roundabout's major dramatic shows.
Former Splendor, Smaller House
The American Airlines was originally designed in 1918 by the architect George Keister. It was decorated in Italian Renaissance style, and originally held 1,180 seats. Its most unique feature when it first opened was separate smoking rooms for men and women. Also, each dressing room included a shower and a telephone.
The Roundabout renovated the theatre back to its original neo-renaissance style (now with 740 seats) as part of the 42nd Street Development Project in 2000. The company received substantial support from New York City.
Cocktails and a Show?
With over 700 seats, the American Airlines Theatre continues to be one of the most admirable and patron-friendly houses on Broadway. It has been redesigned and meticulously renovated by a talented team of designers with a total refurbishment of original ornamentations and with outstanding acoustics and sightlines.
The American Airlines even has an extravagant penthouse lobby located above the theatre with access to a deck overlooking 43rd Street, a sound system, a full-service bar, and a catering preparatory area. Its appealing design makes it a unique and welcoming place perfect for any event, from meetings to cocktail parties. As the major stage in the Roundabout Theatre's season, it is most often used for revivals such as William Inge's Pulitzer Prize winning drama Picnic, Mary Chase's classic American comedy Harvey and Clifford Odets's Hollywood drama The Big Knife.
Google Street View