The history of Broadway is littered with shows that closed after a short run of a few months or a couple of weeks. Broadway also has a list of what might be called absolute turkeys. A "turkey," in the parlance of Broadway, is a show that is a real loser from start to finish. There's absolutely no saving it. (Irving Berlin in "There's No Business, Like Show Business" has the line "Even with a turkey that you know will fold…")
The fact is there are very few winners on Broadway. Most shows don't have long run legs. In a similar vein, there are very few that have earned the credit for being failures of epic proportions. You know the kind. Those that make everyone in the audience simply wonder who ever saw any potential in this thing that happened to occupy a Broadway stage.
Here are two shows that are considered to be the cream of the proverbial flop crop.
Breakfast at Tiffany's
Closed during previews, December 1966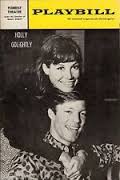 It really seemed like a great idea! The 1962 film with Audrey Hepburn was a huge success, so why not turn Breakfast at Tiffany's into a Broadway musical? This project was the brainchild of the inimitable producer David Merrick. The creators that Merrick hired were heavy hitters Abe Burrows (Guys and Dolls) and Bob Merrill (Funny Girl). Burrows wrote the book and directed, while Merrill served as composer.
Prior to opening it was clear that the new musical was in deep trouble so Merrick brought in one of the hottest playwrights around, Edward Albee, to work on the book. It was not a marriage made in heaven, as Albee, the man who had written The Zoo Story and Who's Afraid of Virginia Woolf?, both mesmerizing dramas, was asked to doctor a light-hearted musical. After four previews Breakfast at Tiffany's closed, as Merrick noted "Rather than subject the drama critics and the theater-going public—who invested one million dollars in advance sales—to an excruciatingly boring evening, I have decided to close."
Dude
Oct. 9-21, 1972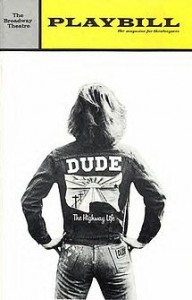 Of course the new musical Dude was destined to be a big box office hit. After all, Dude: The Highway of Life was written by Gerome Ragni and Galt MacDermot. Ragni had created the book and lyrics for Hair, while MacDermot has composed the music. Hair had been a monster hit in the 60s, transforming the Broadway musical and making rock a viable force on The Great White Way.
But Dude turned out to be no Hair. It closed after a two week run and lost $1 million. (And in 1972, $1 million was A LOT of money!) It was a fiasco in many ways.
The actor playing Dude, an Everyman character, was a 23-year-old white man named Kevin Greer. Greer could not sing. He was replaced by a young man named Ralph Carter. Carter was an 11-year-old African-American who could sing.
Recasting meant that the book had to be rewritten extensively, making the project more convoluted than it was in the first place.Dude was intended to be a parable as the title character must fight off temptation that came from a character named Zero. Zero was a Satan-like figure.
The show briefly called the Broadway Theatre home. The interior of the theatre was in essence gutted and reassembled as a theatre-in-the-round. There was an attempt to create a natural forest environment, and the seating sections were given the names Foot Hills, Trees, Mountains and Valleys. The dirt was synthetic due to the fact that real dirt kicked up too much dust and wetting it down created mud. There were all sorts of ramps, trapezes, trapdoors, and walkways for Dude: The Highway of Life. There was also a major multimedia show.

Salome Bey, as Mother Nature, sings of a powerful flower filled garden for two.
The orchestra was divided so that the strings were on one side of the theatre and the rest of the group was on another side. The director and choreographer quit before opening, the cast wanted to walk out, and co-creator Ragni came up with the idea of releasing 100 butterflies into the audience before each performance.
It's hard to say what Dude: The Highway of Life was except that it was bad. The musical was a confused mess that amounted to one bad trip for all involved.
More Flops to Come
In an upcoming blog, I'll be looking at three additional flops that in some was seemed to redefine "bad" on Broadway, and that are part of the pantheon of Great White Way turkeys. The two presented here will live on in infamy.