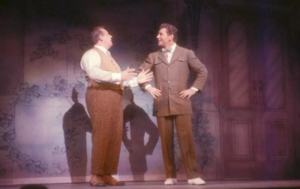 The Music Man starring Robert Preston as Harold Hill and Barbara Cook as Marian Paroo made Preston a major star. Along with being the first musical by Meredith Wilson, for which he wrote the music, lyrics, and book, the massive Broadway hit won five Tonys, won the first-ever Grammy for Best Musical Theatre Album, and in 1962 became a major motion picture with Preston reprising his Broadway role.
Although Barbra Cook was already a huge Broadway star when she appeared in The Music Man, Preston was not. All of that changed when The Music Man opened on December 19, 1957, at the Majestic Theatre.
Robert Preston's Early Career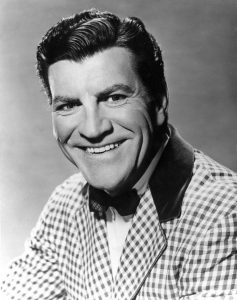 Preston started his professional acting career in Hollywood, primarily starring in Westerns. When he began appearing in films, the studio ordered Preston, whose full name was Robert Preston Meservey, to shorten his name, which he did by eliminating his surname. He made his film debut in 1938, 13 years before his first Broadway show, a 1950 revival of the 1932 Ben Hecht and Charles MacArthur play Twentieth Century. Preston joined the Twentieth Century cast in 1951. He'd appear in seven Broadway shows and numerous Hollywood films before landing the role of Harold Hill.
From 1938 through 1956, he appeared in 35 films, including playing Digby Geste in the remake of Beau Geste, which also starred Gary Cooper, Ray Milland, and Susan Hayward. His last film role prior to playing Hill on Broadway was as Colonel Frank Marston in the Western The Last Frontier (1955). Also, in 1956, he narrated the film Sentinels in the Air.
The Music Man Starring Robert Preston
In 1957, The Music Man starring Robert Preston gave the actor his first Tony. As Harold Hill, the quintessential confidence man, Preston was charming, engaging, and charismatic. At the same time, Preston made Hill's transformation, as he won over town librarian Marian, and she, simultaneously, brought out the goodness in him, believably sincere. At the end of the musical, the two lead characters, who were at first seemingly opposites, are joined in love. Preston, who had rarely sung in public before The Music Man, was 39 years old when he created the role of Harold Hill.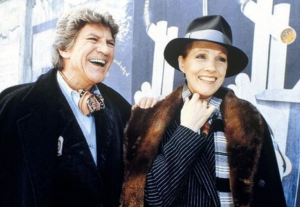 The Music Man played for close to three years at the Majestic Theatre prior to transferring to the Broadway Theatre. It completed its original Broadway run on April 15, 1961, with its 1,375th performance.
After The Music Man, Preston appeared in seven more Broadway shows and 17 more films. He won his second Tony for his work in the Tom Jones and Harvey Schmidt two-hander I Do, I Do, which also starred Mary Martin. Preston also performed the lead role of Henry II in the 1966 premier of James Goldman's play The Lion in Winter. The show also starred Rosemary Harris as Eleanor, James Rado as Richard, and Christopher Walken as Philip.
Along with landing the role of Harold Hill in the 1962 film adaptation, Preston's most memorable film appearances after he became a Broadway star and household name include Roger Morgan in How the West Was Won (1962), Beauregard Jackson Pickett Burnside in Mame (1974), Dr. Irving Finegarten in S.O.B. (1981), Carroll "Toddy" Todd in Victor Victoria (1982), and Centauri in The Last Starfighter (1984).
From Preston to Jackman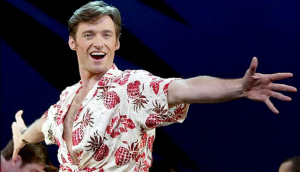 The Music Man's latest Broadway incarnation stars film and Broadway star Hugh Jackman. One quality that Preston and Jackman share is their ability to play a wide range of roles. The revival of Meredith Wilson's The Music Man won't make Jackman a star, as he's already one.
Performing in a major Broadway musical is nothing new for Jackman, who appeared as Peter Allen in The Boy from Oz (2003). As Allen, Jackman won the 2004 Tony Award for Best Leading Actor in a Musical and the Drama Desk Award for Outstanding Actor in a Musical. Plus, he's also played an iconic Broadway musical character in the West End production of Oklahoma! when he appeared as Curly McClain. His portrayal won him an Olivier Award nomination for Best Actor in a Musical.
However, there is something new here for Jackman, as he's going to be compared to the original Harold Hill. Not just because Preston's Broadway, Tony Award-winning portrayal is renowned and iconic, but because we have Preston's legendary performance preserved in the popular film. The Music Man starring Robert Preston was a watershed event for the performer. This latest production will be used to determine how Jackman measures up to the man who was the original music man.