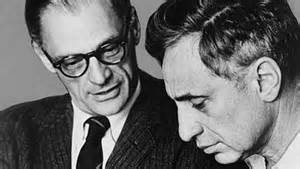 Playwright Arthur Miller (October 17, 1915 – February 10, 2005) left us a body of work that includes what many consider to be some of America's most important and poignant works for the stage. There could be an argument made that he was the most significant U.S. playwright of the second-half of the twentieth century.
His plays include All My Sons (1947), Death of a Salesman (1949), The Crucible (1953), A View from the Bridge (1955 and revised 1956), The Price (1968), and The Ride Down Mt. Morgan (1991). Other works include the screenplay for The Misfits (1961), the teleplay Playing for Time (1980), and his memoir Time Bends: A Life (1987). He wrote a range of works, including nonfiction and fiction narratives, essays, and radio plays, as well as already mentioned scripts for stage, film, and TV. However, his play Death of a Salesman is considered by many to be his best and, perhaps the finest of all American tragedies.
Death of a Salesman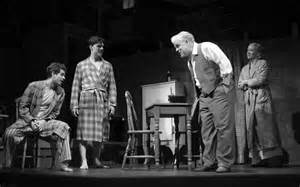 When Death of a Salesman premiered at the Morosco Theatre on February 10, 1949 it had an immediate impact on audiences, reviewers, and the American theatre. The original production, which ran for 742 performances, starred Lee J. Cobb as Willy Loman, Mildred Dunnock as Linda, Arthur Kennedy as Biff, Howard Smith as Charley, and Cameron Mitchell as Happy.
That year Miller won the Tony Award, Pulitzer Prize for Drama and the New York Drama Critics' Circle Award for Best Play. After Death of a Salesman was a hit, the playwright created his famous essay entitled "Tragedy and the Common Man," which helped to cement the play's reputation as a Modern American Tragedy.
Since that original production, Death of a Salesman has been read and studied by millions in high school and college; produced around the world, including a groundbreaking production in Beijing, China (1984), which Miller directed; and revived on Broadway four times. Three of those four revivals saw Death of a Salesman win the Tony for Best Revival. The first revival, which was in 1975 and starred George C. Scott, was not eligible for any Tonys, as the awards did not begin recognizing revivals until 1977.
A Little Bit of History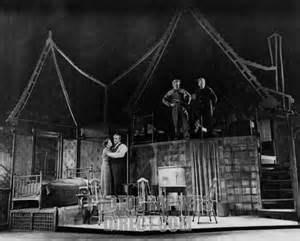 Miller wrote Death of a Salesman in 1948 in his small studio in Roxbury, Connecticut. He finished the first act in less than one day and completed the rest of the play within six weeks. The working title was The Inside of His Head, which reflected the play's utilization of Expressionism, which the playwright comingled with Realism.
More than a dozen Broadway producers rejected Death of a Salesman. The general feeling was no one would want to see a play about a man named Willy Loman, who was, in essence, a failure. But producer Kermit Bloomgarden, who had produced a string of hits on The Great White Way, saw merit in Miller's new work. With Herman Shumlin, Bloomgarden had produced Lillian Hellman's The Children's Hour (1934), The Little Foxes (1939), and Watch on the Rhine (1942).
Bloomgarden's first hit on his own was Deep Are the Roots (1945), followed by Hellman's Another Part of the Forest (1946) and then Command Decision (1947). He was on a roll when he decided to invest time, money, and effort in Death of a Salesman. Included in the creative team was director Elia Kazan and scenic designer Jo Mielziner, both of whom were at the pinnacles of their careers.
Profit Versus Art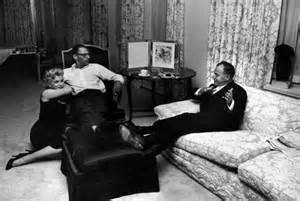 During the production process, Bloomgarden was faced with a decision regarding potential profit versus art. Mielziner's set was designed so that it jutted out into the audience, and in doing so it meant that the producer would have to remove some of the orchestra seats, thus cutting into his gross receipts.
Bloomgarden met in the Morosco Theatre with Kazan, Mielziner, and Miller and discussed the artistic merits of the design, and how altering the set would affect the power and message of the show. Was the artistic choice really worth his eliminating premium seats and cutting into his gross receipts? During the meeting, Bloomgarden decided that art outweighed profit, and he had the seat removed to accommodate Mielziner's set. It was a decision he never regretted.
The Legacy of Death of a Salesman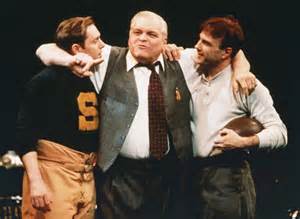 Arthur Miller created a hero unlike any other, an American man who was crippled by his false dreams and yet, despite everything, continued to believe in them. The playwright found deep tragedy in the most common of men and placed him uncompromisingly in the midst of a loving family and unforgiving society. And although Willy Loman was a man who made plenty of mistakes and had a boatload of regrets, there was something noble about him that connected immediately with men and women.
In the late 1980s and into the 1990s, those in charge of editing textbooks focusing on the dramatic masterpieces of the world began eliminating Death of a Salesman from their table of contents. But then something happened; Death of a Salesman would not go away. It continued to be produced professionally and in amateur circles, and it received successful productions in countries that seemed to have little connection to the U.S. It was added back into those textbooks where it can be found today.
A Life Unlike Any Other
Arthur Miller had a life that was filled with controversy, focused on social causes, and defined by his art and political beliefs. He testified before the House Un-American Activities Committee (HUAC), was married to and divorced from the glamorous Marilyn Monroe, and received numerous honors, including the 1984 Kennedy Center Honors. In the second part of this two-part series on Arthur Miller we'll look at how his interactions with the HUAC changed his personal life, relationships, and career.